| | |
| --- | --- |
| Artikelnummer: | 1200037 |
| Verfügbarkeit: | Auf Lager |
Inhoud: 3kg
Briketten zijn erg populair, maar wist je dat veel briketten gemaakt worden van het gruis wat vrijkomt bij de houtskoolproductie? Dit wordt samengeperst met bijvoorbeeld zetmeel en het resultaat is een briket die kort brandt en veel as produceert. De kokosbriket is dé perfecte briket. Er worden geen bomen voor omgehakt, ze branden langer dan traditionele briketten en er blijft slechts 3% as van over. Omdat briketten gelijk van vorm zijn is het uiterst eenvoudig doseren in een ketel barbecue, waar dit met houtskool niet altijd even makkelijk is. 
Ecobrasa, coconut shell charcoal that solves all the problems of traditional charcoal. Its exclusive care and treatment without any chemical provides exceptional quality parameters.
If you use a coal flameless who cooked at high temperatures, it is clean, save space, in addition to economic and ecological genuinely, and that its packaging is practical and neat, Ecobrasa is the answer to your wishes.
Flameless
By means of the exclusive coconut shell transformation process we use in the production of Ecobrasa, absolutely pure and natural, we ensure that briquettes, once lighted and spread in one layer on a slit free surface, will produce no flame, neither when natural fat from food falls on the embers or even pouring oil directly on them… Absence of flames saves time and ensures that eat is roasted instead of urned, presenting an excellent and appetizing look when served on the table.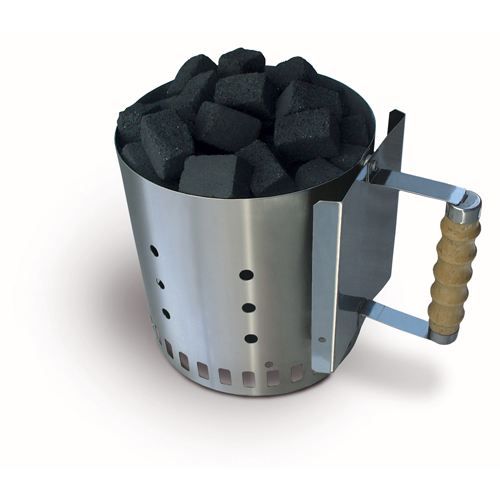 Natural Flavour
Ecobrasa briquettes are totally odourless and tasteless. They do not contain additives of any kind. They are the result of a natural product affecting in no way neither the quality or the original flavours of the food.
Ecobrasa burns at 7.000 kilocalories, almost double than most wooden charcoals.
The high and constant temperature during the cooking process seals the pores of the food, retaining all its juices within. The absence of flame ensures that grilling is effected in the most favourable conditions. The result is delicious fish or meat retaining their original flavour and presenting and excellent appetizing look.
Cleanliness and space saving
Contrary to lump charcoal or ordinary briquettes of uneven shape, Ecobrasa is supplied in a rectangular block format of the same size and consistent high quality. Its compact packaging in boxes is a great advantage, for it averts dust formation caused by friction, an unavoidable problem if charcoal is loosely packed in sacks. The boxes are easier to handle and they save between 60 and 70% of storage or selling space. Ecobrasa produces less smoke than lump charcoal and lesser than 5 % of ash waste.
The low content of volatile matter prevents soot formation, minimizes the risk of fire, lengthens the durability of the filters and considerably reduces the frequency of its necessary cleaning, all of which renders effective savings and a much cleaner working environment.
Economical
Contrary to lump charcoal, Ecobrasa briquettes do not require an air flow to combust, neither physical contact with each other to remain active, and therefore, they can be spread in a slit less surface in one layer instead of on a hip. This feature, together with it's slow burning (in between 2-3 hours) and its high calorific value, reduces greatly the consumption of charcoal.
Depending on the exposure to the air and the type of BBQ, 1 kg (ca. 33 Briquettes) of Ecobrasa is equivalent to in between 2 or 2 ½ kg of traditional lump charcoal. Time saving in handling, storage and cleaning are also economical additional advantages to consider.
For a private barbecue, 1 Kg. is enough for 6 or 7 people, but the long burning hours make it possible to roast continuously for many more. 30 briquettes properly spread take up a space of aprox. 30×30 cm.
Ecological
Ecobrasa is a commercial product but at the same time it's also a genuine ecological initiative. The base of our charcoal is the coconut shell of the species Cocos Nucifera, which must not be mistaken with the Oil-Palm tree (Elaeis Guineensis). To meet the growing demand, large areas of tropical forests have been converted to oil-palm tree plantations, causing severe deforestation, a serious environmental problem reported and exposed by prestigious organizations such as Greenpeace or WWF (World Wildlife Fund).
Ecobrasa uses ONLY the coconut shells from Cocos Nucifera species, and from groves dated as far back as the 19th Century. Not a single tree is felled to produce
ECObrasa, contributing therefore to the preservation of the rainforest, the habitat of many endangered species and the lungs of our planet, producing well over 20% of the world's oxygen by continuously recycling carbon dioxide.
The combustion of ECObrasa produces no sulphur toxic gases. It's a clean, sustainable and renewable energy source.
To light briquettes or charcoal in approximately 5 minutes:
Fill the Starter with as many briquettes or charcoal as you require.
Light several Fire Starters* on a noncombustible surface.
Place the Starter on top until briquettes are fairly lighted.
Lift the Starter using barbecue mitts and pour the embers on the BBQ.
Beware of sparks when moving the Starter or pouring the briquettes.
Make sure to put out the remains of the Fire Starters.
Keep the Starter awai from children and pets.

Hast du Fragen zu diesem Produkt?
Stell sie ganz einfach über den Chat oder per WhatsApp! Klick
hier
um WhatsApp sofort zu starten. Dies ist an Werktagen zwischen 9 und 17 Uhr möglich.