Kamado Joe ProJoe
+ GRATIS BBQ PAKKET bestaande uit:
Vuur&Rook Premium Houtskool 
Vuur&Rook Aanmaakblokjes
Vuur&Rook Rookchips
Vuur&Rook RVS Kernthermometer
Vuur&Rook Silicone Glaze Kwast
De Projoe is onze grootste kamado ooit. Perfect voor de professionals, grote gezinnen of voor een publiek. De Kamado Joe ProJoe is groot genoeg om drie volle rekken met low and slow ribben te roken.
De Kamado Joe  ProJoe wordt standaard geleverd met de revolutionaire SloRoller Hyperbolic Smoke Chamber voor de échte low and slow koks. De SloRoller verspreidt rook en hitte in circulerende golven. Het voedsel wordt omgeven door wolken heerlijke rook en gaart bij gelijkmatige hitte. Dit geeft een rijkere smaak en aanzienlijk minder hitteplekken. Ook ontvang je het nieuwe 3-tier Divide & Conquer® flexibel kooksysteem. Dit, in hoogte verstelbare, systeem met halfronde roosters zorgt ervoor dat je over dubbel zo veel ruimte op de grill beschikt! Het geeft je ook nog eens de mogelijkheid om verschillende soorten voedsel op verschillende hoogtes te bereiden.
Deze keramische barbecue is voorzien van een Kontrol Tower Top Vent, uitgevoerd in RVS (en dus roestbestendig). Deze gepatenteerde en regenbestendige luchtschuif is nauwkeurig in te stellen voor een constante luchttoevoer. De Air Lift Hinge zorgt ervoor dat je 96% minder gewicht hoeft te tillen bij het openen van de deksel. Kind kan de was doen dus!
Dacht je dat dit alles was? Mooi niet. De ProJoe is ook nog voorzien van een meerdelige firebox om breuken te voorkomen, een gepatenteerde lade om de asresten te verwijderen en een wire mesh fiberglass pakking. Het houd maar niet op. Precies hierom hebben we maar een lijstje voor je gemaakt met álles wat er uniek is aan de ProJoe én wat je erbij krijgt:
Hoogwaardige keramische grill,
doorsnede 61 cm
Gepatenteerde SloRoller
Hyperbolic Smoke Chamber
Divide & Conquer® Flexible Cooking System voor grillen op drie niveaus
Scharnier met veermechanisme
Kontrol Tower luchtschuif bovenin
AMP FireBox zesdelige vuurbak
Houtskoolkorf van RVS 304
Grillroosters van RVS 304
Grendel van RVS 304
Pakking van glasvezelgaas
Gepatenteerde uitschuifbare aslade
Ingebouwde thermometer
Grilltang
Asschuiver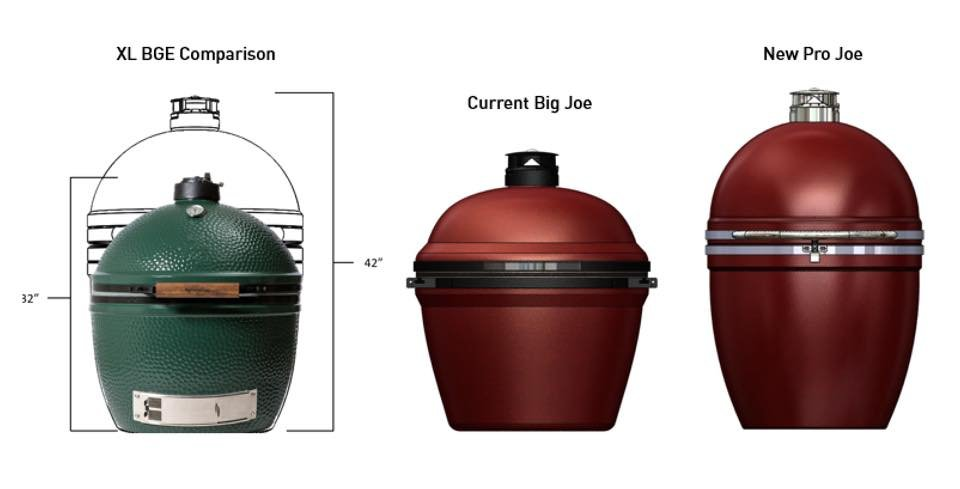 Jouw BBQ GRATIS thuisbezorgd!
In een straal 10 km doen wij dit zelf, mocht je verder wonen dan betalen wij het verzekerde pallet transport voor je!