Green Mountain Grills PEAK Prime WIFI RVS
+ GRATIS BBQ PAKKET bestaande uit:
Onderhoudsset
Zak green mountain pellet 12.7 kilo
Onze nieuwe Prime grills zijn nog slimmer en sterker gebouwd. Het 12V-ontwerp met direct vermogen zorgt voor een betere tempocontrole, een lager brandstofverbruik van de pellets en een snellere start! Dankzij de microverstelling in de ventilator en de vijzelmotor met variabel toerental kun je de grilltemperaturen consistenter houden. Met de grill- en pellet kijkvensters kunt je het voedsel in de gaten houden zonder de rook te laten ontsnappen en kun je ook de pelletvoorraad in de gaten te houden.
De deksel is voorzien van een punt zodat er ruimte is voor staande kippen, kalkoen en rib rekken. Ook is deze pellet smoker voorzien van een Sense-Mate, een thermische sensor die constant de omgevingstemperatuur bewaakt. Als het kouder weer wordt, activeert de sensor en zet de grill in de turbomode, zodat u niet lang hoeft te wachten totdat de grill is opgewarmd! De smoker heeft een temperatuurbereik, van 66 tot 290 graden. En met de Grill Grate roosters tot 350 graden.
Andere functies zijn onder meer een ventilator, die voor overdruk in de pellethopper zorgt en daardoor terugverbranding in de aanvoerbuis voorkomt, een Fan-mode die het as uit de vuurhaard blaast nadat u klaar bent met grillen. Standaard met vaste tafel, as afzuig poort, verstelbare firebox voor in 2 zones te koken.
Ventilatie mode voor koud roken.
Controleer je grill vanaf de bank of onderweg met GMG Smart Control. Pas de rook- en grilltemperaturen aan van 65°C (150°F) tot 280°C (550°F) met 5°C stapsgewijze controle. Grill smarter, eat better!
USB-poort is alleen voor het opladen
USB-poort laadt geen USB-C-apparaten op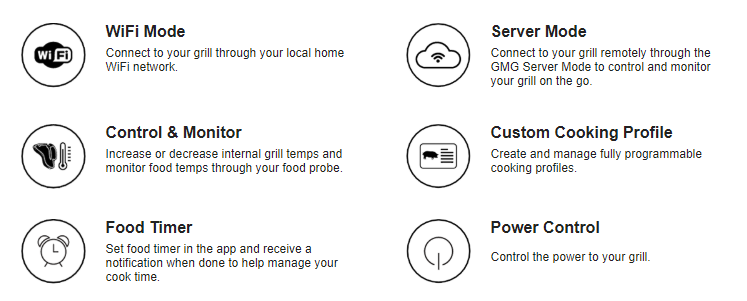 Het Jim Bowie Prime model wordt geleverd met:
Digitale WiFi-controller (controle en monitor via de mobiele applicatie voor iOS of Android),

Vleesthermometer,

Opklapbare zijtafel met gereedschapshaken,

Harde rubber wielen

Venturi-stijl brander voor cycloonverbranding. 
Hetgeen wat extra is bij de Prime+ is:
Zware 6 mm dikke RVS roosters

Opklapbare front tafel
Keramische ontsteker
Verlichting in de kookruimte
Tijdelijk gratis Grill Grate Grill set
Voorbereid voor optioneel draaispit*
Werking.
Een motor draait de vijzel, die vervolgens de hardhout pellets in de brander voert. Daar steekt een gloeistift automatisch de pellets aan, en een verbrandingsventilator onder de brander zorgt ervoor dat ze blijven branden. Ventilatieopeningen verticaal langs de binnenkant van de brander creëeren een ronde luchtstroom. Een ventilator in de pellethopper zorgt voor een positieve druk die terugbranding in de aanvoerbuis voorkomt. Wanneer deze twee luchtstromen elkaar ontmoeten, creëeren ze het ultieme houtgestookte vuur en verspreiden het aroma van de pure rooksmaak van hardhout.


*Rotisserie wordt niet meegeleverd


Specificaties:
| | |
| --- | --- |
| Afmetingen: | 139 x 177 x 62 cm |
| Grilloppervlakte: | 96 x 42 cm |
| Capaciteit hopper: | 8,5 kg |
| Stroom: | 12 volt |
| Verbruik: | 100 W |
| Wifi: | Ja |
| Materiaal: | Gepoedercoat staal en RVS deksel. |
| Gewicht: | 105 kg  |