| | |
| --- | --- |
| Article number: | BJ24RHCI |
| Availability: | In stock |
PAY ATTENTION! This is a PRE-ORDER. Your entire order will be sent as soon as the PRE-ORDER is available!
Expected delivery time: spring 2019
+ FREE BBQ PACKAGE!
Consisting of:
Vuur&Rook South African Premium Lump Charcoal 100% Black Wattle by Dammers 10kg!
Vuur&Rook Fire Starters Wokkels about 70 pieces
BBQ365 Beech Chips 1kg
The Big Joe 3 / Big Joe III is the successor to the wildly popular Big Joe II. With the grill grid of no less than 61 cm, preparing several dishes at the same time is no problem for large groups.
With the Big Joe III, Kamado Joe carries out even more innovations. The improved chassis is made entirely of cast aluminum and even offers storage space for accessories. The revolutionary Super Hyperbolic Insert has been placed inside the Big Joe III. This is a cast aluminum construction that creates an optimal circulation by bringing air together and propelling it. The Big Joe III consists of 3 levels / floors. As a result, it is slightly higher than its predecessor. The patented ash pan is also present again but from now on an Ash Basket standard is included. This makes cleaning your Kamado Joe even easier.
The now familiar Divide & Conquer system can also be found in the Big Joe III. This cooking system allows you to apply different cooking methods simultaneously because all grids are halved. The high-quality ceramic construction of the Big Joe III ensures that the heat is retained and enables perfect temperature control.
Content:
Kamado Joe Classic II with cast iron base and lockable wheels
Built-in thermometer
Finished, folding side tables made of aluminum
Flexible cooking system, devide & conquer 3 layers
Hyperbolic airflow
Charcoal Basket
Ashtray
Grilling tongs
Aspook
Specifications:
| | |
| --- | --- |
| Dimensions: | 91 x 137 x 148 cm |
| Grill area: | 61 cm |
| Weight: | 221 kg |
| Temperature range: | 82 ° C - 400 ° C |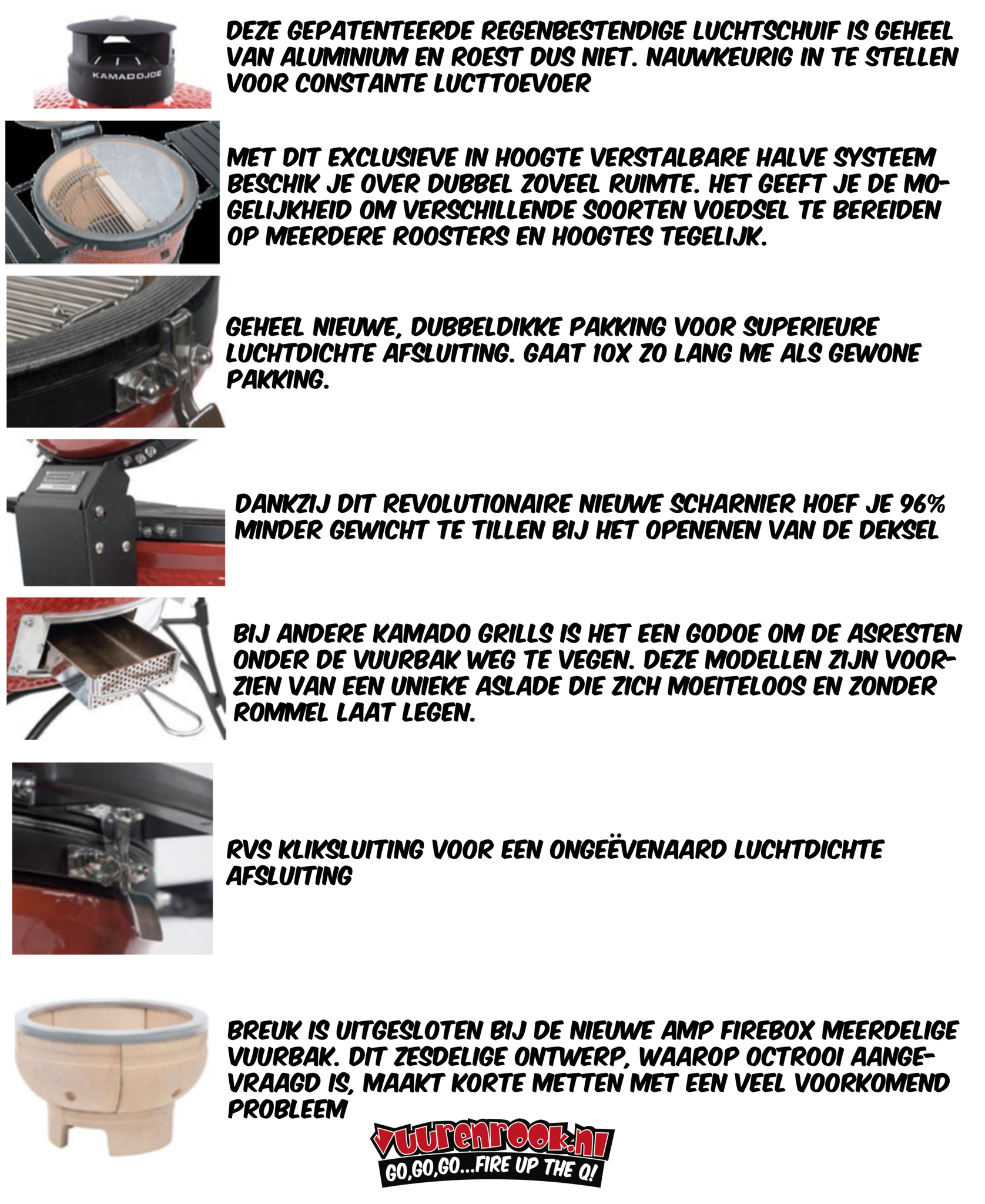 Questions about this product?
Ask them easily via chat or via WhatsApp.
Click
here
to start WhatsApp immediately. Available on weekdays between 09.00-17.00.